A collection of photos related to the WHY NOT sailboat series. Click image for full-size view.
1948 Dick Bolin Cliff's Yacht Basin, Morgan Point (near Baytown), TX Why Not I, owned with Jim Mathis. Purchased for $200 from Bob Love & 2 others at the Humble Baytown (Exxon) Refinery where we worked. Built of cypress wood. Sank and lost when we went to graduate school in 1949.
1948-11-20 Dick Bolin, Jim Mathis Houston Ship Channel, Baytown, TX Sailing Why Not I, a month before 'Why Not' sank at her moorings - only to be raised and repaired by Jim and Frances Mathis, and Dick and Jeanne.
1967-05 Dick Bolin, Rick Bolin, Doug Bolin Avandaro Yacht Club, Valle de Bravo, EdoMex, MX Why Not II, Mercury Class sloop built in Sausalito, CA circa 1930, among 30 exported to Acapulco, Gro for competition sailing. Owned 1965-1974. 18' loa, 29' mast, 3.5' draft, heavy weather racer. Photo by Alex and Amy Firfer.
MacGregor Yacht Venture 17 brochure, front
MacGregor Yacht Venture 17 brochure, back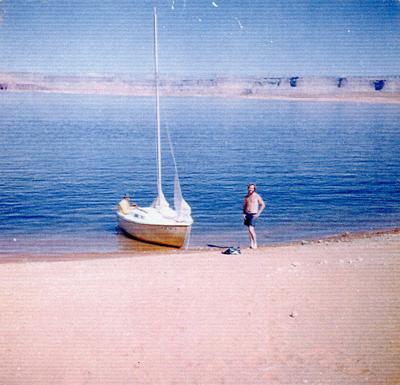 1978-07 Doug Bolin, Dick Bolin Lake Powell, UT Why Not III, Summer 1978
1979-04 Dick Bolin, Rick Bolin, Doug Bolin Upper Lake Mary, Flagstaff, AZ Why Not III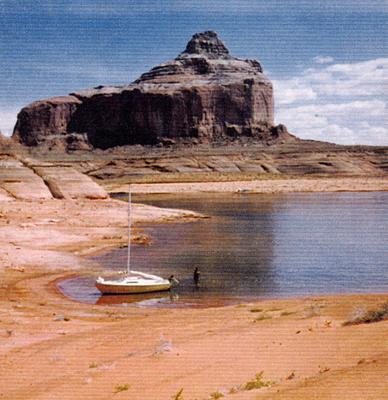 1981-05 Jeanne Bolin, Dick Bolin Lake Powell, UT Why Not III at anchorage, 2nd night, Memorial Day Weekend, 1981