On Friday, August 29th, 2003 we decided to take the Why Not III out for a sail on Long Island Sound. The forecasts for wind, seas, and tides were all good, and the storm front wasn't expected until later in the afternoon. We got a reasonable start, made it to the launch area in South Norwalk, CT by around 11:15am, and were under sails by noon. Stayed out almost 3 hours, covered perhaps 15 miles total. Had tuna sandwiches, oranges and water for lunch, got home with the boat put away by around 5pm. Gosh, can we do this every day?
Best thing about the trip, I think, was that I finally remembered to take my camera along. Hope you like the photos!
Getting ready; Car, boat, and Sharon in front of the house in Danbury
"Hey! That guy is following too close behind me! I'll hit my brakes and let's just see if he can stop in time."
Driving down Rte 7 toward South Norwalk - takes about 35 minutes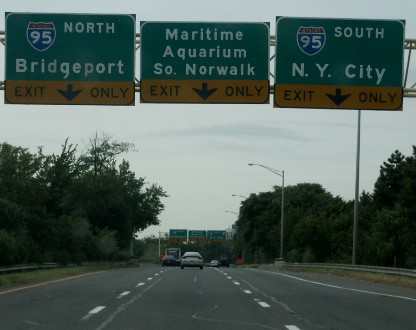 Stay in THIS lane...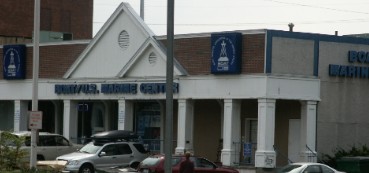 Need any sailboat parts or nautical accessories? Nope, not this time!
Downtown South Norwalk, shops on either side
Parked at the launching ramps, ready to set up
Up goes the mast
Sharon actually likes this part, moving into position to launch
...almost there!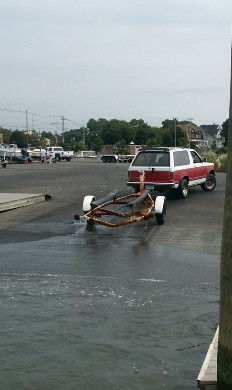 Poof! An empty trailer! Where's the boat?
Oh, there she is!
After dropping the keel, installing the rudder and tiller, we cast off and begin motoring out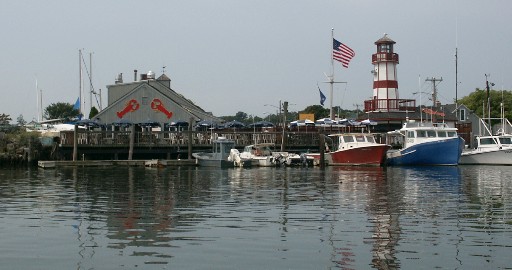 Past the SoNo Seaport Seafood restaurant (they serve some great whole-belly clams)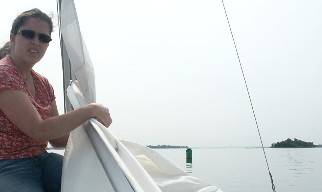 "On which side should you be passing that green bouy?"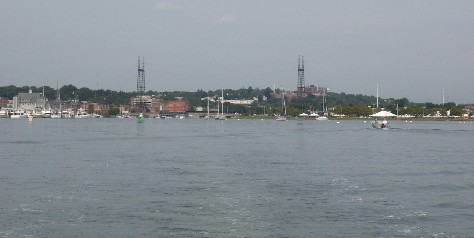 Looking back at South Norwalk
Training boat from the Parry Sound Sailing School, someone's learning to sail!
A nice catboat!
"No, I don't think so! I'd never go out on that thing!" (Jimmy, one of our cats)
"Telling the tale" of the winds - Why Not III's telltale
Fairly easy sailing weather: 10-12kts wind, seas about 1 1/2 ft.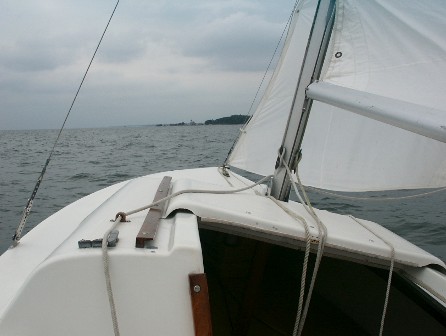 Looking southwest down the sound - on a clear day you can see Manhattan
Behind us, to the northeast
An old lighthouse facility, on an island about 3 miles from South Norwalk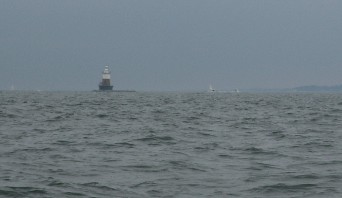 One of dozens of similar lighthouses along the CT shoreline, about 50 ft tall
Where did all those boats come from?
Typical New England shoreline homes
That's "Red on Right Returning" for you buoy rookies!
"If you think I look like an oyster, Mister, look again!" The "Catherine M Wedmore", oyster trawler up from New Jersey catching up to us.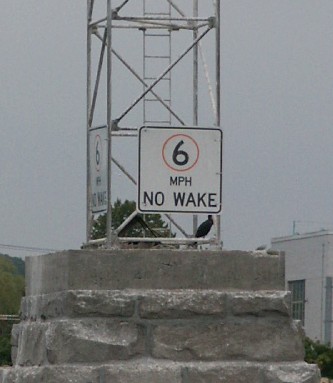 Look, for me, 6 mph is a huge increase!
South Norwalk or bust!