New York Cheese Cake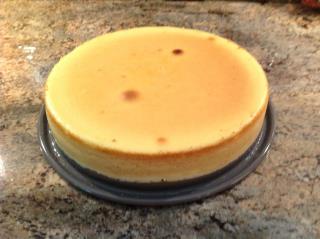 Preserved by: Mona Schulman Avellino
This recipe was used at 'Top of the Sixes', a now defunct restaurant on the top floor of 666 Fifth Ave.
Make 1 day in advance and refrigerate overnight.
Ingredients
Number of servings
10-12-14
30-36-42
50-60-70
Graham cracker crumbs
1/2 oz.
1 1/2 oz.
2 1/2 oz.
Cream cheese
1 lb. 8 oz.
4 lb. 8 oz.
7 lb. 8 oz.
Granulated Sugar
11 oz. (1 2/3 cups)
2 lbs. 1 oz.
3 lbs. 7 oz.
Eggs, fresh
9 1/4 oz. (4 extra large)
1 lb. 12 oz.
2 lbs. 14 1/4 oz.
Vanilla
1 tsp.
1 Tbsp.
1 Tbsp. 2 tsp.
Lemon Juice
1 tsp.
1 Tbsp.
1 Tbsp. 2 tsp.
Sour Cream
1 lb. 2 oz. (1 lb. + 1/4 cup)
3 lb. 6 oz.
5 lb. 10 oz.
To prepare pans:
Sprinkle graham cracker crumbs on the inside of a well buttered 9" spring form pan. Shake out excess crumbs.
To prepare batter:
Mix cream cheese on No. 2 speed (Hobart Mixer) until soft, approximately 2 minutes.
Add sugar gradually and cream well, approximately 3 minutes.
Add eggs, one at a time. Scrape down bowl. Continue to beat on No. 2 speed 25-30 minutes.
Add vanilla and lemon juice and mix to blend. Remove bowl from mixer.
Fold in sour cream by hand, using a wire whip.
To bake:
Weigh 3 lbs. 12 oz. Batter into prepared pan. Spread mixture evenly.
Set filled pan in utility pan containing hot water.
Bake in a 350° standard over for approximately 1 1/4 - 1 1/2 hours, until top begins to crack and a toothpick inserted in the center comes out clean.
Remove from water bath and let cool on a rack about 10 minutes. Remove sides of pan.
Invert and unmold while still hot. Let stand until cool. Refrigerate overnight.
Service: 1 chilled portion (1/2") on a 7" plate or other dessert plate.
Marble Cheese Cake
Prepare Pan and Batter following recipe above. Set aside 2 cups of batter.
Melt 4 oz. semi-sweet chocolate morsels in sauce pan over low heat.
Fold reserved batter into melted chocolate.
Pour main batter into prepared pan. Top wth the chocolate batter.
Draw knife through the batter.
Bake and serve following recipe above.