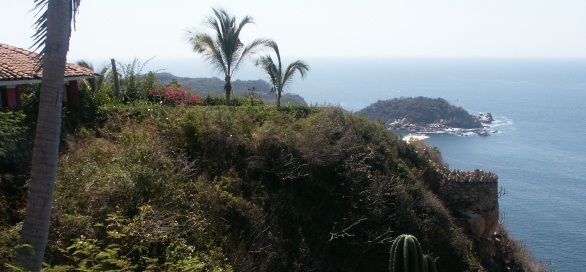 Acapulco!

We found the "Los Flamingos" hotel in the Frommer's guide (we used the book a lot!). This hotel used to belong to a "club" of Hollywood stars, primarily Johnny "Tarzan" Weismuller, who discovered it. This round cabana was a favorite of John "The Duke" Wayne. The small balcony down towards the cliff had rocks on end to simulate the lower jaw of an alligator. Probably no good place to set down your margarita.
Cliffs below the hotel end in the ocean, about 140 meters elevation. Water was clear down to 20 ft or so. Nice warm salty breezes up at the top of the hill.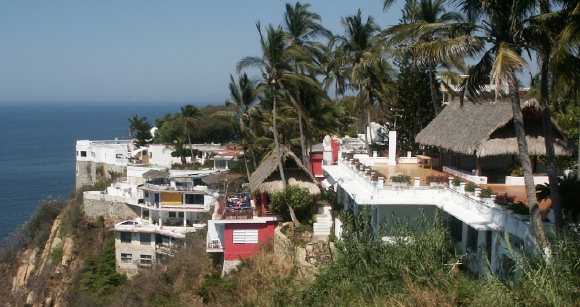 A view of the hotel from the pool terrace, showing the dining and party areas.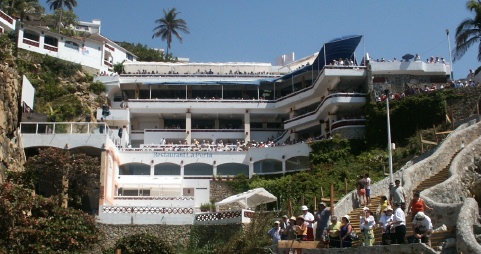 The Mirador restaurant overlooking "La Quebrada", the rocky inlet where the famous Acapulco Cliff Divers perform.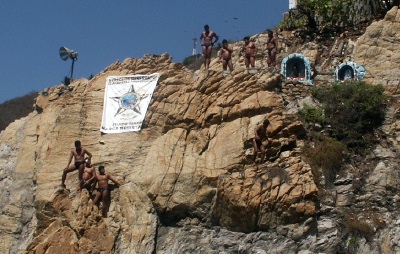 Some of the divers preparing to dive (I think I have a good video of one of their dives, will try to remember to post it here soon).
Our old friend, the Queen Mary II, last spotted in New York harbor (see my other photo-journal about her maiden voyage to NY).

Takes up most of the bay, doesn't she? Click on the picture of QM2 to see a panorama of Acapulco bay.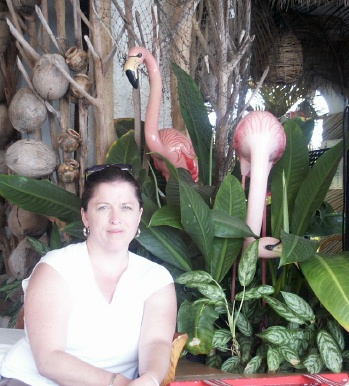 Sharon and some nice wood-carved Flamingos, in the "Los Flamingos" restaurant area.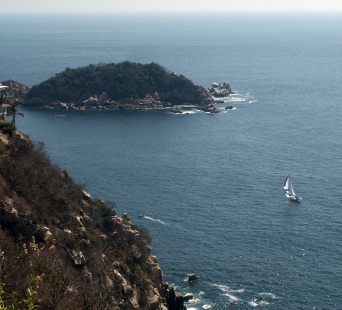 This captain of this sailboat has GOT to be having a wonderful time, no doubt about it. Gorgeous conditions.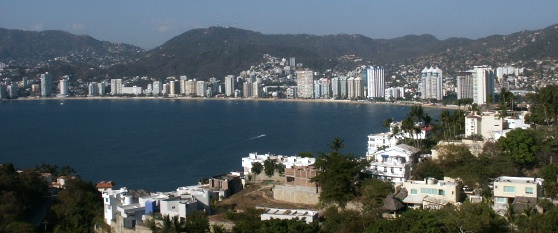 A view of the hotels along the southern end of Acapulco bay, close to the old Navy yard. The costera is full from end to end, no vacant lots anywhere to be found. Traffic isn't as bad as you might expect.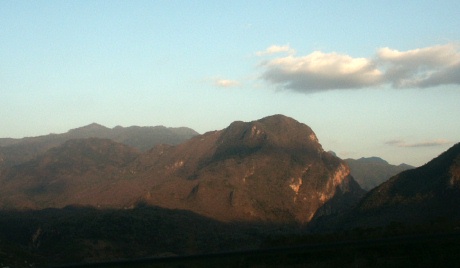 Here's another scene from the highway, late afternoon climbing up from the tropics into the foothills of the western ridge of the Sierra Madres.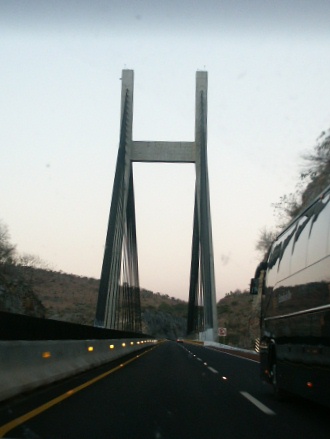 Same highway, approaching one of the many new suspension bridges that make this such a nice highway. One of the bridges has 4 segments like this, and I estimated that it cleared the river below by some 900 feet. I should Google that, it's quite an engineering feat, for sure.