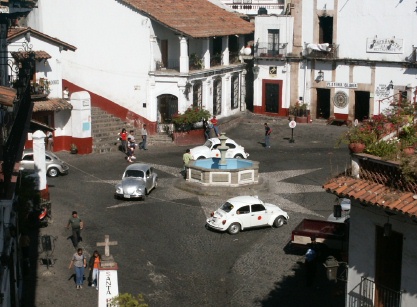 Car alarms were going off more than half the night, some cars several times. Arrrrgh! But the next morning...

A view of the plaza below our hotel room. This time of the morning, it wasn't so busy as the night before, when traffic was pretty steady up until about midnight.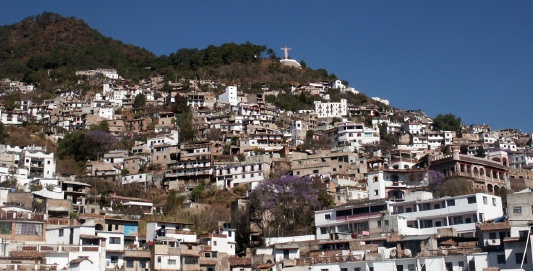 Another morning view up the hill above our hotel.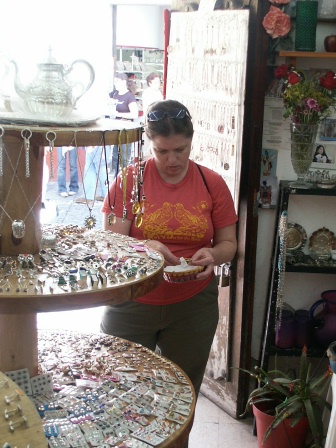 Sharon shopping at one the silver outlets.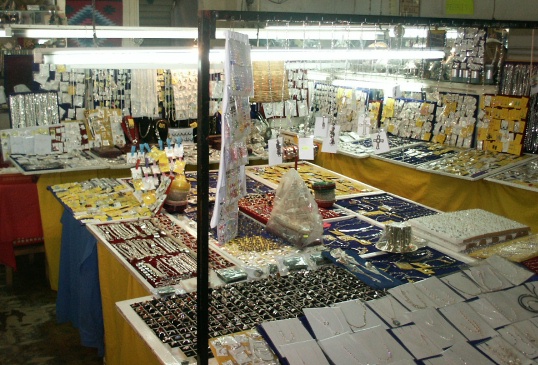 A silver shop at the Mercado de Artesanias, down in the grotto next to Santa Prisca. We bought several bracelets and necklace items here.

Away from Taxco...

A view from the highway toward Acapulco. It was slow going down the hill from Taxco to Iguala, then down the old familiar highway to Chilpancingo (now it's the "libre" road). Didn't spot the old Tastee Freeze with the foot-long hot dogs, that was an Iguala favorite stop between Mexico City and Acapulco. It probably closed after the "cuota" highway opened, bypassing Iguala by 30 miles.
Another view from the highway to Acapulco, this of an approach to one of the nice tunnels they've built, along with some nice (very HIGH) suspension bridges. It's a very well engineered highway, and shortens travel time between DF and Acapulco to under 4 hours (used to be minimum of 6 hours).