View of the Nevado de Toluca (literally "snowed one"), on the highway from Temascaltepec.
This white bus (with no anti-sway equipment, I'm sure!) was tailgating me down the highway for a while. I pulled over and let him by, but wound up catching up to him when he had to stop to drop off or pick up passengers.

On the way down into the valley of Toluca, he became impatient and started taking enormous risks to pass the traffic ahead.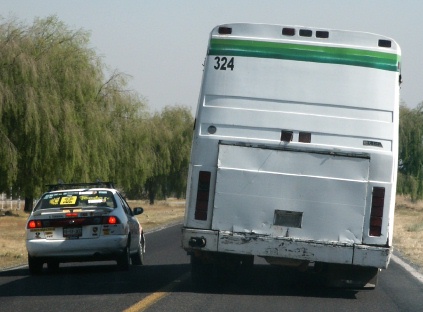 I guess the driver of this little white car thought he'd be better off in front of the bus... so he passed. Not a good idea, as it turns out.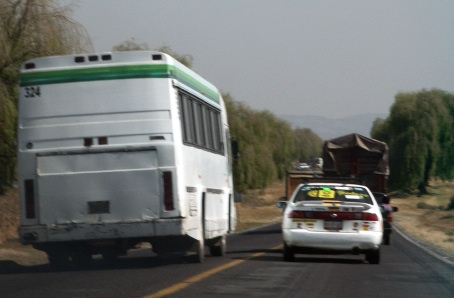 Getting revenge!... the bus decided to pass the white car, and a couple of other vehicles, too! Here he's headed straight at an oncoming tractor-trailer rig... I have no idea how they all missed eachother.

We saw other examples of crazy driving during our visit, but this one was particularly dangerous.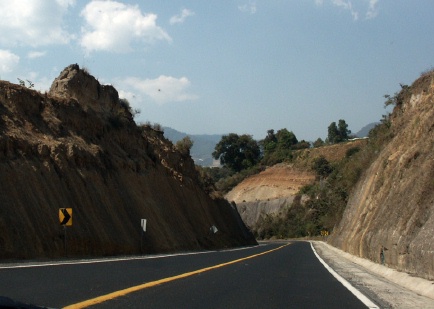 View on the road (Mex 15) between Toluca and Ixtapan de la Sal.
Another, same highway.
A nice weathered tree next to an overlook, between Ixtapan de la Sal and Taxco.

The highway drops down off the plateau and into some lower canyons, before meeting up with the road between Cacahuamilpa and Taxco. So you drop down about 5,000 ft, and climb back up about 4,000 to get to Taxco.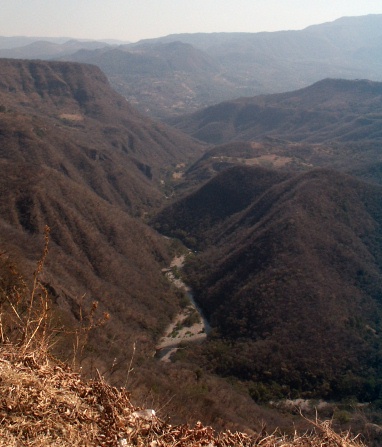 Overlook, drops off about 600 ft straight down, no fencing to speak of.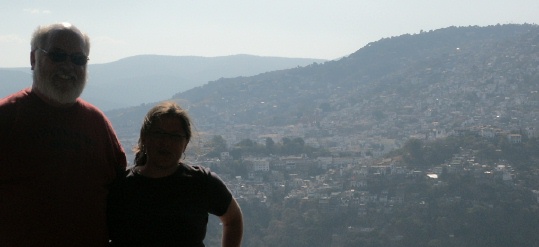 Backlighting, anyone? We wanted a view of Taxco, and also wanted to be in the picture, so we shot this with the camera on the roof of the car. You get the idea.
The famous church in Taxco, Santa Prisca. Some renovation going on.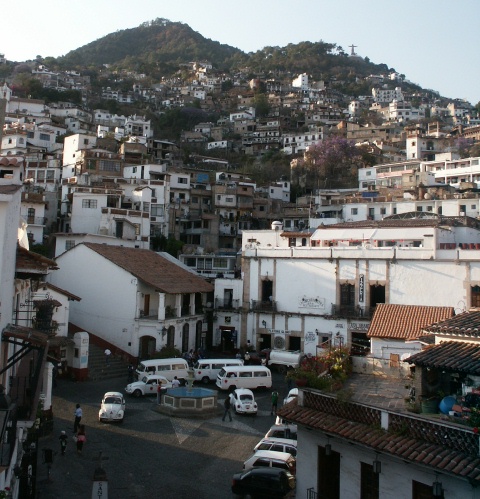 View up the hill from our room at the hotel.
Our very nice hotel room, in the Hotel Santa Prisca. Could only arrange one night there, but would easily have accepted another.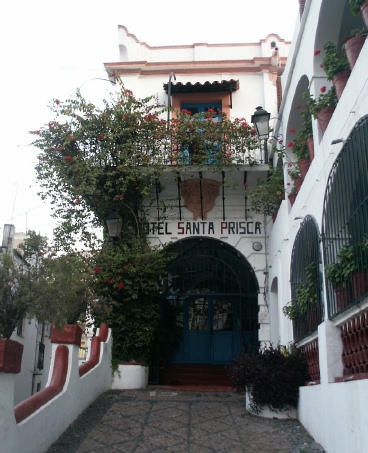 The front of the hotel as viewed from the traffic circle you see in some of the other pictures. Our room was the one whose balcony you see directly above the entrance.
The "zocalo" of Taxco, known as Plaza Borda. Very busy street scene, with restaurants and silver shops all around, and street vendors throughout the square.

My estimate is that 80 percent of the cars in Taxco are old Volkswagens, mostly beetles and buses. The buses can load up about 15 people for a run between the highway down at the foot of town, and the plazas up above. Streets are narrow, about a car width plus 3-4 feet is typical for a 1-way road.
Interior of the Santa Prisca church.
The light fixture in our hotel room, as seen from down near the floor. Ask Sharon what this picture is about - I have no idea. :)