Motorcycle Ride with Bruce Sauer
September 23, 2006
The GoldWing needed a shake-down cruise. My friend Bruce Sauer was going to be in the New York City area, and suggested we take a ride together. We arranged a meeting time and place, and things worked out just fine! Since he lives in southeastern Pennsylvania, it makes good sense to meet halfway, in central New Jersey; these big cruising bikes cover a lot of miles very quickly and comfortably.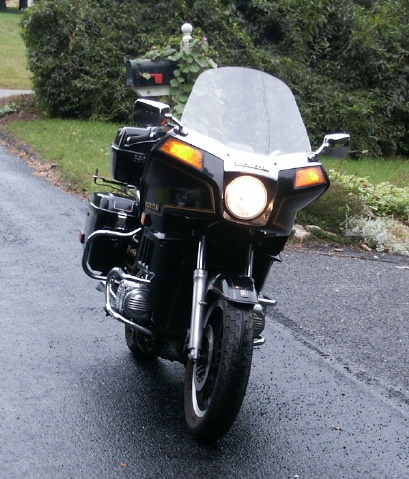 On the street in front of my driveway, warming up. There had been some steady rain showers through the morning, but all was about to clear up. Only caught a couple of light showers on the way down to New Jersey.
The flash lit up those reflectors pretty well, didn't it?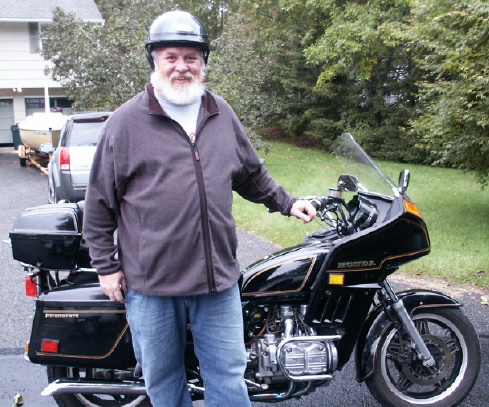 My neighbor Pat came over to say hi and I made him take my picture. I think I need a beard trim, no?
At the Ramapo Travel Plaza on the NY State Thruway, about 5 miles north of the northern end of I-287. This was about an hour into the ride, and I needed a stretch.
My good friend Bruce Sauer, getting set to ride again after a great lunch at Panera Bread in Phillipsburg, NJ, just a couple of miles from the Pennsylvania state line. Bruce drives a wonderful BMW GS, meant to circle the planet in comfort and style. I needed some advice on the kind of road gear I should buy, Bruce is definitely the guy to ask.

From Phillipsburg we traveled north on NJ 519, which is just the right kind of road for motorcycle touring... smooth pavement, nice turns and small hills, through some gorgeous farmland countryside. I was riding about 100 yards behind Bruce most of the day, and learned how the GoldWing feels in many conditions.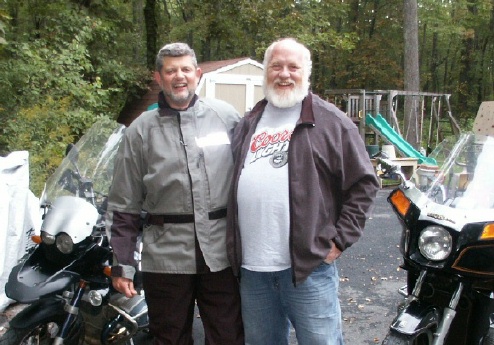 We stopped in to see Bruce's sister Donna and her husband Dave, at their home in Wantage, NJ. Only then did I find out that it was BRUCE'S BIRTHDAY!

Happy Birthday, Bruce!

Dave was about to head out to play a gig (guitar and vocals) with his band, "The Receding Hairlines" at a Wantage Town fair, first I got him to take this picture of Bruce and me, then we went to listen to the first half-hour of his gig. Great old stuff, and Bruce got to see some old friends at fair.

I got back home just after dark, odometer logged 302 miles on the day. Great riding bike, I hope to be doing these kinds of things much more often.