Our home, the side yard. That's our house on the left, the top of sailboat (Why Not III) with mast, too.
Abby, road.
This brook north of the town of Sherman, CT was renamed in 2001, back to the original native american "Naromiyocknowhusunkatankshunk", which means "water flowing down the hill".
North of Sherman.
Same area, a large dairy farm.
Different angle, with a fountain.
Bull's Bridge (covered), south of Kent, CT. Nice hiking adjacent.
From the guard rail next to Bull's Bridge, upriver view, Housatonic River.
Sharon and Jo in the car.
Church of Sharon. Well, church IN Sharon, CT.
Another covered bridge, West Cornwall, northwest Connecticut.
Driving north near Stockbridge, Massachusetts. Just wanted a view of the highway.
Pontoosuc Lake in northwestern Massachusetts.
Another angle, Pontoosuc Lake.
Same place, opposite direction.
Massachusetts hillside, cows, cleared corn field.
More from the same stop.
Hills, corn field, pumpkin patch, same stop as prior picture.
Same stop, but looking across the highway to the west. More pumpkins. Hills glowing orange.
Farm and hillside in Vermont. Pretty much peak color here. Love the contrast with the dark evergreens.
Panorama from the same spot.
Detail from the same spot.
More hills in southern Vermont.
Roadside view coming in to Bennington, Vermont.
Old First Church, Bennington, Vermont. Robert Frost gravesite in the church graveyard.
Choir loft inside the church.
Views from the graveyard. East view to hills about 5-7 miles away.
Colorful trees in the graveyard.
More...
and more.
Still more, or possibly the same trees. Oh well.
Robert Frost and family grave site.
Different view.
Another view.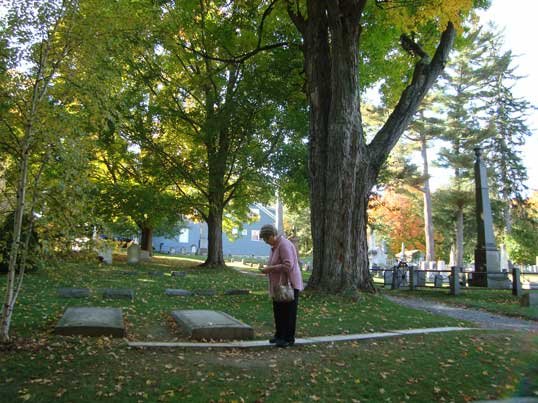 Sharon's aunt Jo reading the headstone.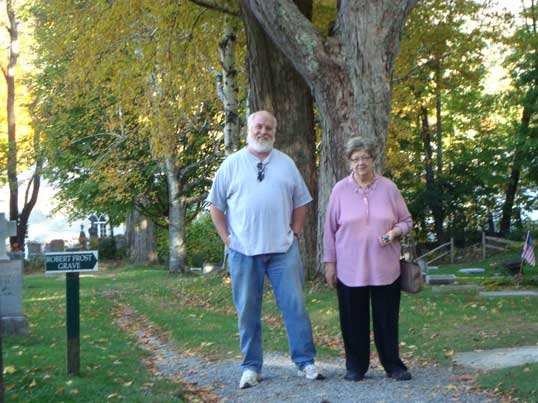 Doug and Jo, near the Frost grave.
Ran into these folks from Tyler, Texas, one was wearing a UT Longhorn shirt and cap.
Jo and Sharon.
Nice birch tree on the property of Robert Frost's "Stone House" in South Shaftsbury, Vermont (north of Bennington).
Another view of the birch.
Old barn on the grounds of the Stone House.
Stone House. Robert Frost lived here from 1921 to 1929, wrote "Stopping by Woods on a Snowy Evening" here.
Sharon and Jo crossing the grass, west of the Stone House.
An old snow apple tree that was part of Frost's old orchard, still full of apples, we tried a bite.
Jo posing under the apple tree.
Another nice old new england barn.
Roadside scenery between Bennington VT and the NY state line.
Nice neighborhood color on a maple tree.
This scene beside the road just after we crossed into NY on Rte 9 was attracting dozens of photographers.
One worries that they haven't caught just the right photo... so there's a tendency to take a few extras, "just in case"
Nicer ? Or is it just the same ?
I love the reflection in the pond.
Still love it.
Yup I think I have this now.
The sun was dropping fast as we approached Brunswick, NY. But there were still some colors we weren't sure we'd seen. Nice contrast - too bad about the power lines.