We finally went to sea on a ship with our pals Bobby and Sheila Nolder, to celebrate our 20th anniversary, and their 25th. We flew from NY to Tampa FL on Saturday to help my son David celebrate his 23rd birthday with his wife Andrea (they drove up from Boynton Beach FL for two nights in Tampa). The next day we boarded the Carnival Cruise liner "Legend", to sail the western caribbean.
Here's Sheila riding shotgun in "BigMeow", after we had supper together at TGIFridays. Nice smile, and the Nolders provided the warmest of welcomes.
David on his 23rd birthday, with lovely wife Andrea.
Doug and Sharon and an inflated spider, at Tampa's Lowry Park Zoo, on one of their "ZooBoo" nights. Toured some haunted houses, saw manatees and fruit bats!
A nasty looking snapping turtle, at the zoo. I guess more like 'napping', in this shot.
Next day (Sunday), on board the Carnival Legend, looking skyward in the Colossus lobby. Boarding time from street to deck was only about 30 minutes, but it took a while before our cabins were available and suitcases delivered. Our cabin steward, Paulcy (from Haiti) kept everything ship-shape, and made folded-towel animals every evening.
Same place, Sheila and Bobby looking very happy to be getting underway.
Motoring down the channel from Tampa.
Short final? Nope. The ship channel passes right next to this airport, so for a few minutes our ship blocked the approach to the runway. I hope they explain this to their student pilots.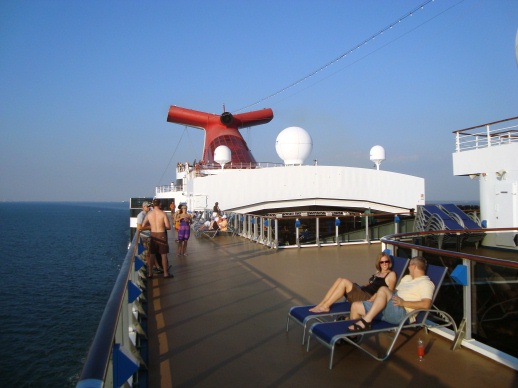 On the "Sun" deck (10th floor), looking aft. Still in Tampa Bay.
Passing under Tampa Bay's Sunshine Skyway bridge, clearance is said to be just five feet!
The pilot departed Legend after we were safely out of the harbor area. Looking aft from our balcony.
Sharon on the balcony.
Doug, same place.
Next morning (Monday), a nice sunrise over the Gulf of Mexico. I was having too good a time to sleep, I guess.
The beautiful blue color of the ocean. While at sea we watched dozens of flying fish and saw one sea turtle. We wanted to see whales and dolphins, too - but those are rare in this area.
On Tuesday morning, Carnival Legend anchored in George Town harbor, Grand Cayman. There was a big thunderstorm as we pulled into the port, but by the time we disembarked, the sun was out and it turned into a really nice day!
Bobby, aboard the boat that took us out to Sting Ray City (sand bar) and to a coral reef nearby for snorkeling, operated by Captain Marvin. Sharon kissed a sting ray (not on the lips) and so claims seven years of good luck.
Sharon and Sheila on Captain Marvin's boat.
Sharon and Doug on Grand Cayman, waiting in line to board the tender back to Legend. Behind us is a restaurant called 'Margaritaville'. We had lunch back on board the ship, though. We bought some cuban cigars but customs didn't ask so we didn't tell.
The Legend, from the tender. The swells from Tropical Storm Paula made the re-boarding rather exciting. Our stateroom was on the 7th deck (3rd from top), 8th from the front.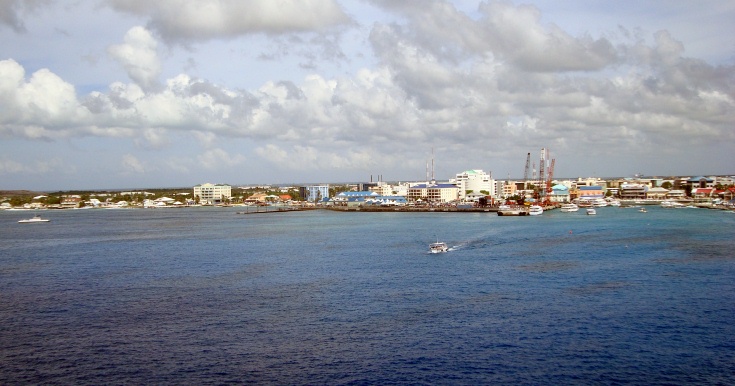 Looking back over George Town, Grand Cayman, from our balcony.
Other cruise ships anchored at Grand Cayman, (left to right) Celebrity Solstice, Carnival Destiny, Carnival Valor.
Change of plans! Paula grew to hurricane strength right over Cozumel, so Legend changed the itinerary to drop the stops at Cozumel, Roatan, and Belize, and substituted Ocho Rios, Jamaica. So we headed east, circling at sea to wait for our dock to open at Ocho Rios. Had to scurry to book a shore excursion. Lost our chance to scuba and visit Mayan ruins. Nice sunset, though!
On Thursday morning, we were followed into Ocho Rios harbor by another Carnival ship.
Bobby and Sheila decided to go with one of Carnival's shore excursions to Mystic Mountain, while we decided to visit the 'cool blue hole' using an independent tour operator. Here's our first swim spot, with nice limestone rock formations, some caves, and a swing rope. Our driver, Craig, gave us some insights on Jamaica, while our guide Morgan helped out with the swimming and hiking.
Waterfall, upstream on the White River from the blue hole. Here you can walk most of the way down the 60 foot falls, then dive or jump the final 20 ft. into the pool: watch video. We also spent a while at Mahogany beach before returning to the port area for shopping.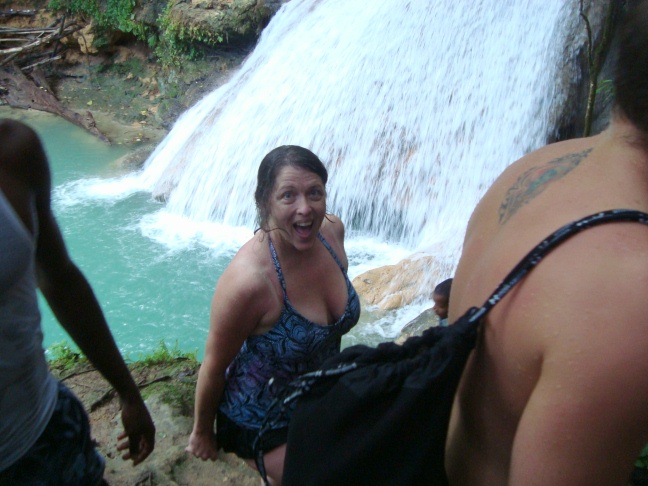 Sharon was obviously delighted, and so wondered why others were hesitant. Hmm, I only went down the falls once, it wasn't so easy.
This shot of the falls and two frightened tourists helps show the scale.
Sunset on the last evening at sea.
Sharon on the balcony.
Doug was there too.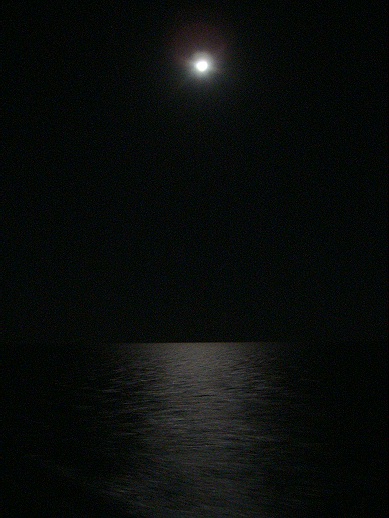 Late at night, I managed to capture a picture of the moon over the ocean.
The happy cruisers back in the port of Tampa. (We'll remember the way the captain pronounces it - "tomm pahh"). Sharon is wearing her new Bob Marley shirt. We hope to cruise again someday soon!