My first day in London. On a hunch that this was a rare sunny day, I spent most of my time outdoors, enjoying the great weather. I did quite a bit of walking - so much that I decided to draw my route in on my street map, to see how far I'd really gone. Not far enough, I guess. London is spread out, even some of the key attractions are out of the way. I took as many pictures as the camera would take (even a few videos), and a few on my "spare film" chip. For the moment, I'm posting only a few photos, because I have too many to really weed through, and want to show enough here. Chances are more will be added soon.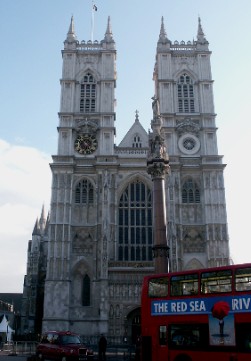 Westminster Abbey. One of the places I really wanted to see. Unfortunately for all of us tourists, there was a "special ceremony" being held, so the Abbey was closed. Since it's closed on Sundays too, I guess I miss it this trip.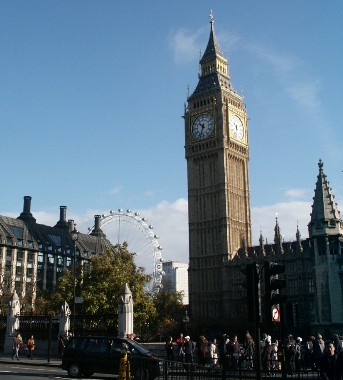 The clock tower, housing the bell "Big Ben". Behind it, London's newest tourist attraction, the "Eye" (Ferris wheel).
As soon as I got a chance to look over the Thames river, from the bank, this thing came chugging by. I though a first it was a small mexican boat, but it fact it's amphibious - called a "Duck". The noise and the un-seaworthy aspect of it made me laugh anyway.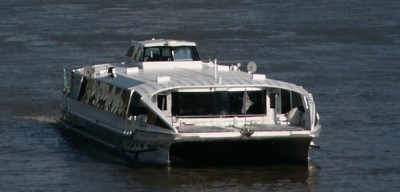 Here's one of the nicer tour boats, probably a bit cheaper.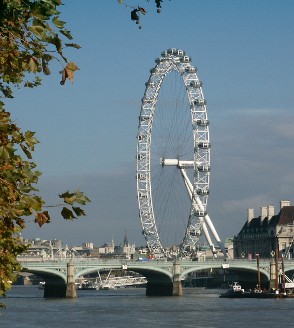 The "Eye" of London. Each "egg" holds about 25 people (they like to board fewer), and it takes about 30 minutes to make the circle.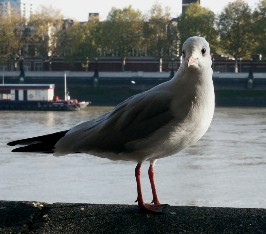 Another pesky bird. "Are you SURE you don't have anything I could eat? I eat most anything!"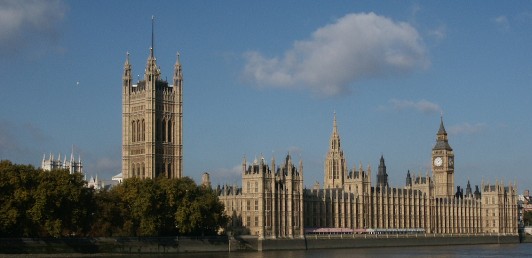 The postcard scene, includes the towers of Westminster Abbey, the Houses of Parliament, the Clock Tower. What doesn't come through here is the SIZE of these buildings. They are huge!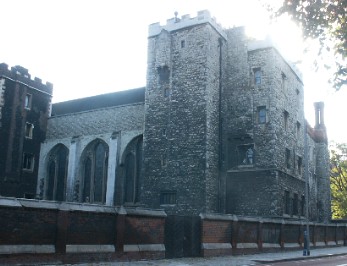 Lambeth Palace, the home of the Archbishop of Canterbury since 1292.
Nelson's statue at Trafalgar Square - I just thought it was a traffic congestion area. From this point, I walked down to 10 Downing Street, (Tony's Place), then down another few blocks to Liz's house.
Liz's cottage. No changing of the guard to stick around for. Nice.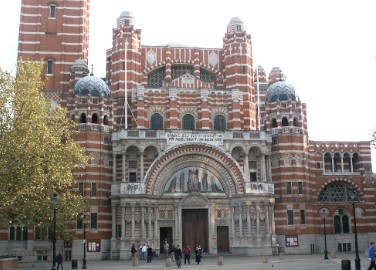 Westminster Cathedral. The stonework pattern on the outside make this seem more like a turkish mosque or something. The tower is open as a sightseeing deck, and quite cheap, so I rode up and took some pictures.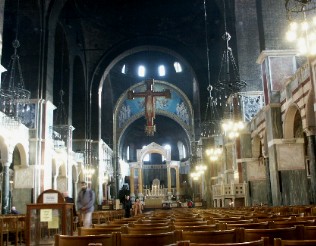 Here's the inside of the cathedral area. Very nice organ music playing from the pipe organ above the door when you walk in.
This is the view to the southeast, and if you look, it has a little of everything: St Pauls, the Eye, Big Ben's clock tower, Westminster Abbey, Parliament, and far off, the Canary Wharf business district.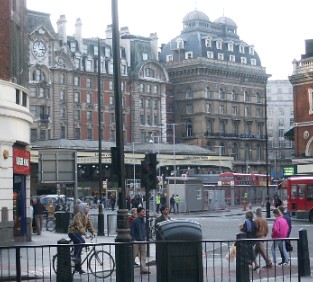 Victoria Station - this is also the heart of the Theater district, with shows all around - much like the area around Times Square in New York.
St Pauls Cathedral, Sir Christopher Wren's masterpiece. I'll make a return visit for this one, too; there's a restoration project underway, and the entire front fascade (off to the left of this photo) is covered with a scaffolding. Inside, well besides the long wait time, there's an admission fee! To see a church. Oh well.
The Globe Theater, where many of Shakespeare's plays were first performed.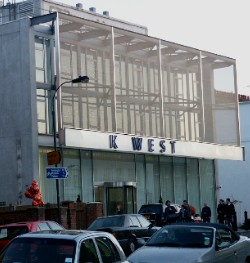 That's about enough for one day! Here's my hotel, about 10 miles west of downtown, in a section called "Shepherd's Bush". Luxury accomodations, so very good after a long day's walk-around of London. More tomorrow!