Roof Replacement
November 2005
Another part of our effort to organize and improve our house, we had the roof replaced! We contracted the work through a friend of ours, Maran, who ordinarily works on nice homes in New Canaan or Darien, CT. Sharon picked a nice new color and style of shingles, called "Weathered Wood" - same as we'd used on the shed.
The replacement process involved removing the old roofing down to the plywood sheathing (ours had two layers of shingles already). Next, old wood and sheathing had to be replaced in spots - almost all of the fascia boards were re-done, and the plywood decking was replaced to about a foot in width. Then, a few upgrades were done - WeatherGuard freeze protection near the edges, and new metal drip edges were put on. New tar paper and all the new shingles.
Work days were pretty short - so we brought out lights for evening work, reclaiming the hours between 4:00pm and 7:30pm or so (gets dark early here in November!). All was done in about two days, except getting the dumpster hauled off - right after we throw some other stuff in it.

As the house normally looks (looked), including the several cats that follow you (in fair weather) to see what you're up to.
Front of the house, project is underway on the back roof. In the driveway are two palettes of materials, and 15-yard dumpster, positioned so that old materials could be thrown off the roof straight into it. Hey, that's a nice looking Saturn Vue in the driveway too, huh?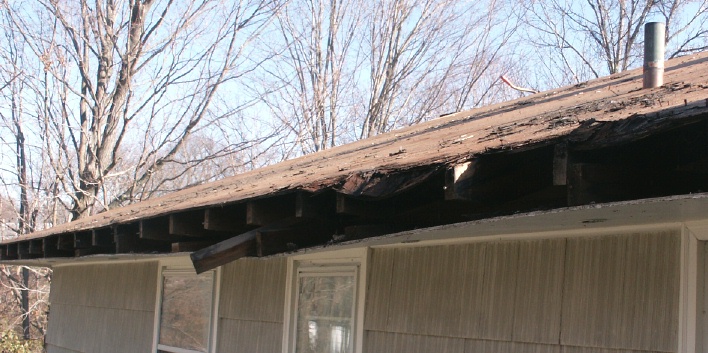 Here's a section of the back (southwest face) roof where a little bit of the roof decking and a section of fascia had to be replaced. No water had gotten into the house, but there was some onto the soffit area. Some of the soffit boards looked like they'd never been nailed in correctly, but that was all re-nailed as it was being resurfaced.
How it looked before the roofing was applied; note the fresh plywood decking and primer-coated fascia board. That's Hector, one of the three Ecuadorean workers, along with Raul and Jorge.
Front of the house, Sunday morning Nov 20. Back roof was complete, and work on the front was well underway.
Nearly done! Main roof is topped off, and they're working on the small roof over the steps.

Looks much better, doesn't it? :)