Auto Show NY - 2005
New York Javits Center
Monday, March 28, 2005
Okay it was a long day, and the weather was windy, rainy and just awful. So it wasn't exactly easy getting to and from the Javits center for the show, but on the plus side, the crowds were relatively light.
I go to auto shows to try cars I think I might like to own, or that I might fit into. The second qualification overrules the first, I'm afraid. I did fit very comfortably into the new Ford 500 (very nice car!) and also the Saturn Vue SUV. Pontiac will be selling a new SUV this coming fall, looks like it borrows a lot from the Buick Rendezvous platform, and probably is meant to replace the ugliest car they've ever built, the Aztek.
I didn't take many photos, but these are a few that tell some of the story.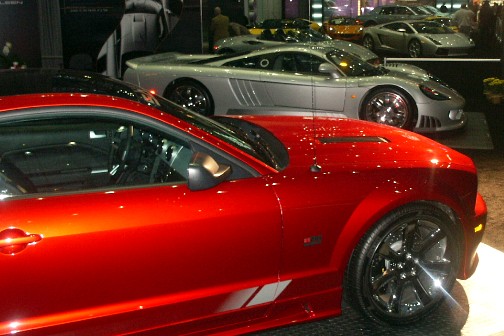 Looking over the hood of a Saleen prepared 2005 S281 Mustang, towards their exotic Saleen S7. Beyond that, Lamborghini was showing a Murcielago and a Gallardo, with a couple of Lotus cars in the same booth.
Ahhh! The new Ford GT, gorgeous in silver. This car looks like it could come straight out of the showroom and compete in the 24 hours of LeMans race, and probably win. Well that's what its ancestors did, back in the 1960s. See my other photo-journal about the 25th Shelby anniversary.
The front deck of the Ford GT.
Toyota built this "alien" looking thing that looks like it might be useful in a senior community in a sunny state - but it's sure not road-worthy. It folds open by sliding its rear axle back, so the driver winds up in a reclining position. Actress/TV hostess Meredith Vieira of daytime ABC chat show "The View" was there to try it out, but we were asked not to shoot pictures while they were filming.
A nice Lexus concept car. It incorporates some aerodynamic decking and shaping underneath, and I think it's a hybrid gas/electric.